Get ready for the Secure Information Box
"I therefore recommend that the owner and manager of every high-rise residential building be required by law:

a. to provide their local fire and rescue services with up-to-date plans in both paper and electronic form of every floor of the building identifying the location of key fire safety systems;

b. to ensure that the building contains a premises information box, the contents of which must include a copy of the up-to-date floor plans and information about the nature of any lift intended for use by the fire and rescue services.

I also recommend, insofar as it is not already the case, that all fire and rescue services be equipped to receive and store electronic plans and to make them available to incident commanders and control room managers."
Sir Martin Moore-Bick, Grenfell Tower Inquiry Chair – October 2019
Change is coming
The above extract from the Grenfell Tower Phase 1 recommendations forms part of the new Fire Safety (England) Regulations 2022, which are enforceable from 23rd January 2023.
This article focuses on the role of the Secure Information Box and its pivotal role in the management of Fire Safety in residential buildings.
Scale & Scope
The regulations define a high-rise residential building as one which contains two or more sets of domestic premises and is at least 18 metres above ground level or has at least seven storeys not including storeys below ground level. LUHC estimates this to be approximately 13,000 blocks that will require a Secure Information Box. 
Secure Information Boxes will also be mandatory in all new buildings over 11m. There have also been calls for the retrofit height threshold to be reduced too.
What is a Secure Information Box?
It is a locked, red metal box, fixed to the wall of a building, containing paper-based information. It is there to assist the Fire and Rescue Service if they are called to an incident within the building.
We refer to this type of product as an Analogue Secure Information Box as it is literally a red metal box containing paper that has to be physically content managed and accessed.
What do you put in an Analogue Secure Information Box?
The new Fire Safety (England) Regulations 2022 state that the following items must be included:
Details of the Responsible Person
Floor plans marked up with fire safety equipment
Site layout plan
Considerations for Responsible Persons
Secure Information Boxes are being implemented within the Fire Safety (England) Regulations 2022, which are enforceable from 23rd January 2023.
Responsible Persons must consider the time it will take to buy, install and populate the Boxes with content across their portfolio. They must also think about the process for Analogue Secure Information Box content management across a geographically dispersed portfolio. Out-of-date information could be more dangerous than no information at all!
The Fire Safety (England) Regulations 2022 impose new information-sharing duties on the Responsible Person. The Analogue Box is just one of these duties.
It is important, therefore, that the RP regards the Analogue Box as a 'stakeholder' alongside Residents and the Fire Service when it comes to information sharing.
What is the best way to manage a portfolio of Analogue Secure Information Boxes?
We believe a Digital Secure Information Box solution (like Building Safety Register) is the best way to manage all the compliance documents and evidence for each block. The Digital Secure Information Box can act as the 'control copy' of documents contained within the Analogue Secure Information Box.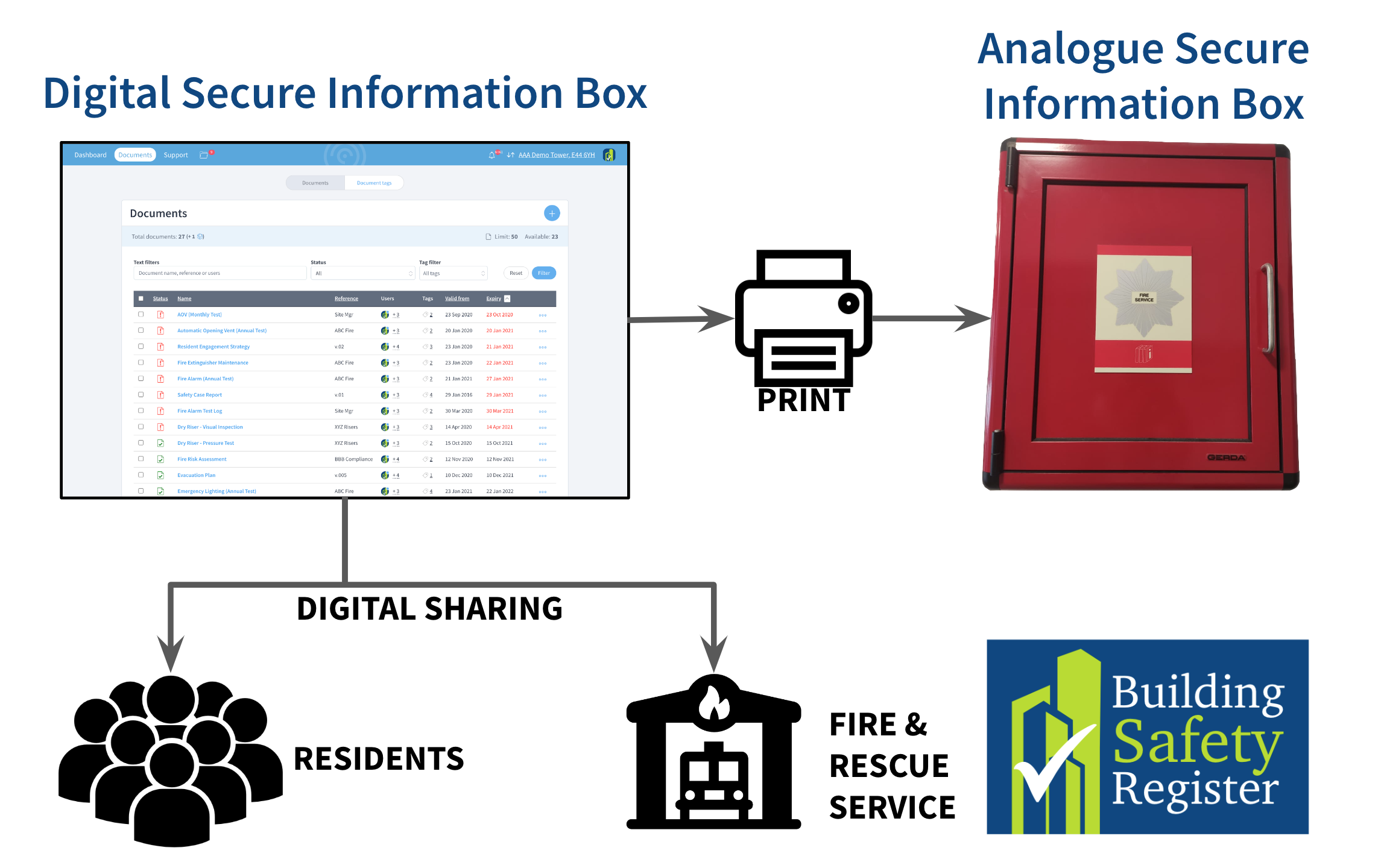 As a single source of truth for each building, the Digital Box provides secure 24/7 access to Residents, Fire Service and other stakeholders. In an emergency situation, firefighters, control room staff and incident commanders can access digital information from the moment an emergency call is received. The Analogue Box, however, needs physical attendance on-site in order to access the information within.
From a Responsible Person's perspective, the Digital Box automates the sharing process and tracking of expiry and renewal dates.
It is important to note that the Analogue Box, as proposed by the Grenfell Inquiry is not an intelligent solution. In short, it may or may not contain the correct information at the time of a fire. It cannot monitor or measure user behaviour and it cannot be accessed remotely for assurance purposes.
We believe, therefore, the Digital Box concept should be adopted with urgency and the Analogue Box viewed as a fallback solution and not the primary.
How long does it take to get a Digital Secure Information Box set up?
Our Software as a Service solution is available for same-day deployment on a monthly pay-as-you-go basis with no long-term contract.
How much does a Digital Secure Information Box cost?
This will depend on the number of Digital Boxes you need and the capacity of each. The cost per Digital Box with unlimited secure users is £12 per month (inc VAT).
Can I see a Digital Secure Information Box in action?
Yes of course, we can demonstrate online any time, so please GET IN TOUCH to arrange a time.
Customers, investors, and other stakeholders can see formal and transparent evidence of your corporate governance, risk management and regulatory compliance
Apply to register your building(s) on the Building Safety Register today…